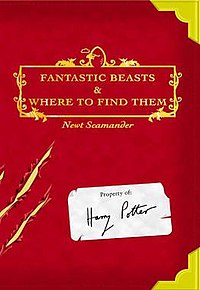 Fantastic Beasts and Where to Find Them
Original "for Muggles" version
Fantastic Beasts purports to be a reproduction of a textbook owned by Harry Potter and written by magizoologist Newt Scamander, a character in the fictional Harry Potter series. In the series, magizoology is the study of magical creatures.
Albus Dumbledore, headmaster of Hogwarts, provides the foreword and explains the purpose of the special edition of this book (the Comic Relief charity). At the end, he assures muggle readers, "The amusing creatures described hereafter are fictional and cannot hurt you." He repeats the Hogwarts motto: "Draco dormiens nunquam titillandus", Latin for "Never tickle a sleeping dragon".
Fantastic Beasts and Where to Find Them contains the history of magizoology and describes 85 magical species found around the world. Scamander says that he collected most of the information found in the book through observations made over years of travel across five continents. He notes that the first edition was commissioned in 1918 by Augustus Worme of Obscurus Books. However, it was not published until 1927. It is now in its fifty-second edition.
In the Harry Potter universe, the book is a required textbook for first-year Hogwarts students, having been an approved textbook since its first publication. In his foreword to the book, Albus Dumbledore notes that it serves as an excellent reference for wizarding households in addition to its use at Hogwarts.
The book features doodles and comments added by Ron Weasley. The comments would appear to have been written around the time of the fourth book, Harry Potter and the Goblet of Fire. These doodles add some extra information for fans of the series (for example the "Acromantula" entry has a comment confirming that Hogwarts is located in Scotland) along with comic relief (such as Ron stating "you're not kidding" when talking about the Hungarian Horntail being the most fearsome dragon of all, a reference to Harry's encounter with one in the fourth book).
The cover design of the first edition of the book features apparent claw marks from an unidentified animal.
2017 "for Wizards" version
This edition features six new creatures: the hidebehind, the hodag, the horned serpent, the snallygaster, the thunderbird, and the wampus cat, in addition to the original 75, and the illustrations are replaced. Newt Scamander, in the foreword, explains the reason the six new creatures were not previously included is because MACUSA president Seraphina Picquery requested the more important American creatures not be mentioned to deter wizarding sightseers at a time when the US wizarding community were subject to greater persecution than their European counterparts, and after Scamander had contributed to a serious breach of the International Statute of Secrecy in New York.


Role in the Harry Potter series
The book's fictional author, Newt Scamander, does not appear in the main Harry Potter book series though his name is seen on the Marauder's Map in Harry Potter and the Prisoner of Azkaban. He is the central character of the Fantastic Beasts film series, in which he is played by Eddie Redmayne.